ANNOUNCEMENTS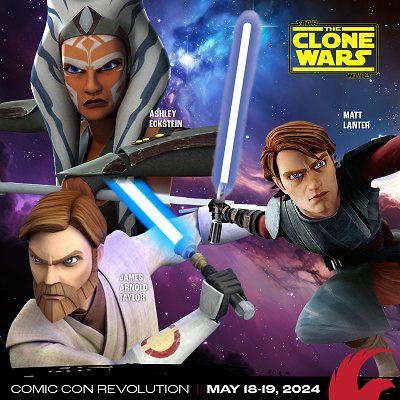 Comic Con Revolution, the The Inland Empire's largest comic book and pop culture experience, is excited to announce its return to the Ontario Convention Center May 18 & 19, 2024.
CCR is proud to announce the main trio of voice actors from Star Wars: The Clone Wars animated series by LucasFilm. Ashley Eckstein, the voice of Ahsoka Tano, Matt Lanter, the voice of Anakin Skywalker and James Arnold Taylor, the voice of Obi-Wan Kenobi are scheduled to make their inaugural visit to Comic Con Revolution.
All three will be meeting fans, signing autographs, participating in professional photo ops for the duration of the weekend. Additionally Eckstein, Lanter & Taylor will be taking part in a panel together looking back on their experiences voicing these iconic Star Wars characters.
"We are incredibly excited to welcome the voice cast of Star Wars: The Clone Wars to Comic Con Revolution," said Co-Owner Drew Seldin. "Their contribution to the Star Wars universe has left an indelible mark on fans of all ages across multiple generations. This is a unique chance for attendees to connect with the talented individuals who brought these beloved characters to life."
Comic Con Revolution, May 20, 2024 | © Atomic Crush Events. Site design by Squared Radicals.