January 17, 2019
Buy early and save! Really, tickets will be available at the door on March 2nd & 3rd; however, they will cost an additional $5.00. Not only that, advanced ticket purchases (that's people who buy tickets early, like now) get access to the show floor 60 minutes early as well. So if you want some extra time on the floor to grab the good stuff, this is the way!
Did we mention kids 12 and under get in FREE with a paid adult! Plus now you have the option to pick tickets up at the show OR have them mailed directly to you.
We've also offer discounts to first responders, military service men/women and Senior Citizens (ages 62+)!!
Don't wait,
get your tickets for CCR today
!
December 31, 2018
From our family to yours!
November 26, 2018
Did you know that CCR Tickets make great holiday gifts?
And we make it even easier by offering you a downloadable holiday gift card to gift with those tickets. We've commissioned artist Travis Hanson to create a one of a kind custom holiday card just for the revolution.
It's really simple, too. Just download the PDF, print it, fold it and fill out out. That's all there is to it.
Click here
to download your card.
November 26, 2018
That's right! Our once a year Black Friday through Cyber Monday sale continues.
Save 15% off all WEEKEND tickets when you use code
SAVE15
at checkout.
Don't waste any time as the sale ends at 11:59pm on Monday November 26th!
Click here
to buy your tickets now!
November 17, 2018
To say we've been busy announcing guests is an understatement! Recent additions like Nick Bradshaw (X-Men Black, Infinity Countdown, Cable & Deadpool, Venomized), Carlos Pacheco (The Life of Captain Marvel, Avengers Forever, X-Men, Green Lantern), Donny Cates (Venom, Cosmic Ghost Rider, Death of Inhumans), Greg Land (Astonishing X-Men, Birds of Prey, Domino), Frank Tieri (Harley Quinn and Her Gang of Harleys, Pestilence, Wolverine, Iron Man, Deadpool) , Don Rosa (The Life and Times of Scrooge McDuck, Walt Disney Uncle Scrooge and Donald Duck), Megan Hutchison (Rockstars, Will O' the Wisp, Liberator), Mark Pennington (Batman, Wolverine, X-Men), Elliot Fernandez (Army Of Darkness/Xena, Warrior Princess, Riverdale, Jughead).... and really I can go on and on, but you should really head on over to the guests page and check it out yourself!
To see our full current guest list
click here
or to get tickets
click here
!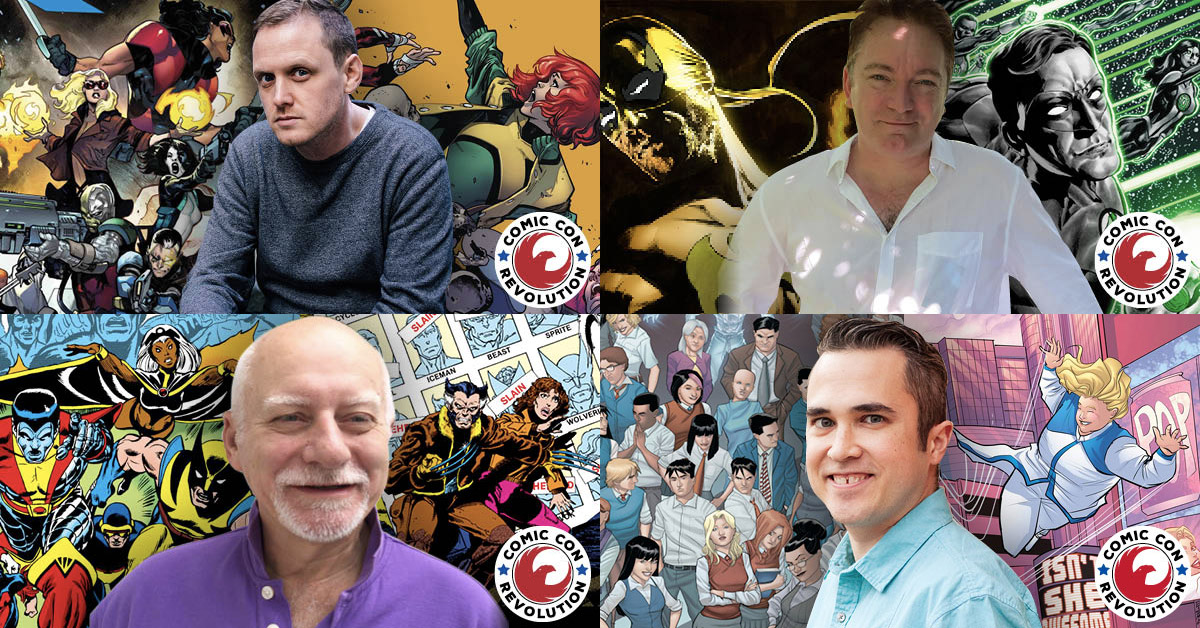 October 24, 2018
We added comics legends like Chris Claremont (Uncanny X-Men writer), Ed Brisson (Cable, Iron Fist, Old Man Logan, The Secret Avengers) Mike Perkins (Green Lantern, Astonishing X-Men, Carnage) and Joe Eisma (Morning Glories, Archie, Riverdale) to go along with our already growing list of artists, cosplayers and writers previously accounted!
To see our full current guest list
click here
or to get tickets
click here
!

July 26, 2018
2019 Guests Include Ming Chen, Amanda Conner, Fabian Nicieza,
Jimmy Palmiotti and Angi Viper
CCR WPB is proud to announce our first group of extraordinary and immensely talented guests. Ming Chen (AMCs Comic Book Men), Amanda Conner (Harley Quinn), Fabian Nicieza (Deadpool), Jimmy Palmiotti (Harley Quinn) as well as cosplayer Angi Viper who will introduce the West Palm Beach fans to our very own Comic Con revolution hero Jetpack Jules.
Additional guest announcements to follow in the coming months as we continue our nonstop efforts to engineer the best comic convention experience West Palm Beach has ever seen.
"The excitement is building for year two of CCR WPB, our guest list is growing by the day and we are looking forward to expanding on the great success of last year," said ACE partner and co-founder James Ross. "South Florida has shown us that they LOVE comics. We are excited to bring some of the most talented comic creators in the industry to West Palm Beach to meet some of the most passionate fans in the country."
Order your tickets to Comic Con Revolution today. Adult weekend tickets are $35, Teen weekend tickets (13-17) are $30, Adult Saturday tickets are $25, Teen Saturday tickets (13-17) are $18.75, Adult Sunday tickets are $20 and Teen Sunday tickets (13-17) are $15. As always kids aged 12 & under are free with the purchase of an adult ticket. Tickets purchased at the door will be $5 more per ticket. In addition to the savings, advanced ticket holders will receive a limited edition art print, as well as being able to enter the exhibit floor an hour early each day.
Location:
Palm Beach County Convention Center
650 Okeechobee Boulevard
West Palm Beach, FL 33401
Hours:
Saturday March 2nd, 2019 10am (9am with advance ticket purchase) - 6pm
Sunday March 3rd, 2019 11am (10am with advance ticket purchase) - 5pm
June 5, 2018
The Revolution GROWS!

Ontario Show Year 2 Brings in 7,489 Attendees!

Inaugural Event To Launch At The Donald E. Stephens Convention Center in Rosemont, Illinois June 1st & 2nd

West Palm Beach, Florida at The Palm Beach County Convention Center on March 2nd & 3rd

Ontario, California at the Ontario Convention Center on May 18th & 19th
New York, NY May 29, 2018 | Atomic Crush Events (ACE) is excited to announce the expansion of Comic Con Revolution to Chicago in 2019 as well as the dates for returning events in West Palm Beach, Florida and Ontario, California. Additionally, year 2 of the Ontario, California show attendance grew to 7,489.
ACE will be launching Comic Con Revolution Chicago at the Donald E. Stephens Center in Rosemont, Il on June 1st & 2nd, 2019. Attendees can expect to see some of the best and most exciting talent the industry has to offer headlining the guest list. Also to be expected is a diverse exhibitor list that will include a large artist alley, comics, vintage comics, toys, games, cosplay and more.
The team at Atomic Crush Events launched Comic Con Revolution in Ontario and West Palm Beach in back to back years. Adding Chicago next year was a natural fit," said ACE co-founder Mike Scigliano. He added, "Chicago is a great comic book town. We want to give the fans a true comic convention that focuses on comic books that is packed with artist, creators, dealers and publishers.
The Inland Empire proved to us once again that creating a Comic Convention for the area was the correct move, said Drew Seldin, ACE co-founder. As the fans continue to support the conventions, we will continue to build a show for everyone. Were already starting to plan for 2019 to make year 3 even better.
March 2nd & 3rd, 2019 sees Comic Con Revolution West Palm Beach (CCRWPB) return to the Palm Beach County Convention Center for its second year while expanding to two full days. Comic Con Revolution Ontario (CCRONT) returns for its third year at the Ontario Convention Center on May 18th & 19th, 2019.
Guest announcements and ticket sale dates for all events will be forthcoming. Our guest lists will focus on artists, creators, dealers and publishers from all aspects of the comics industry.
Each CCR will host a Cosplay Revolution Costume Contest giving all contestants the opportunity to win our one-of-a-kind Revolution medals.
Ontario 2019 will see the 2nd annual Joe Kubert Distinguished Story Teller Award bestowed upon a worthy recipient. The 1st annual award was presented to Stan Sakai.
All Comic Con Revolution shows are celebrations of the incredible men and women who have made comics their profession. At all CCR shows kids 12 and under are admitted free with a paid adult ticket.