March 20, 2018
Not only do advance ticket holders get in early and save a at least $5 vs the ticket prices at the door, but now they also get a FREE Jetpack Jules print with art by Dustin Nguyen! That sure sounds like a great incentive to buy your tickets now.
If you already bought your tickets fear not -- you are ahead of the game AND you will get your print, too!
*** Advance ticket holders will claim their free print while picking up their wristbands at Advance Ticket Pick-Up. **
Get your
advanced tickets now
!!
March 17, 2018
The DoubleTree by Hilton Hotel Ontario Airport is our main hotel! If you would like to book at the DoubleTree or any of the many local hotels within walking distance of the convention center please click the big red button below.
When you use this link, Comic Con Revolution is noted as the reason for the hotel stay, which helps us grow the event, including insuring our dates stay the same year after year.
Book your
lodging here
!
March 16, 2018
Comic Con Revolution returns to The Inland Empire and Ontario Convention Center, located at 2000 E Convention Center Way, Ontario, California this May 19 & 20, 2018 with comic book icon Chris Claremont. Comic Con Revolution is proud to play host to this rare Southern California appearance.
Chris Claremont, famous for his unparalleled 17-year unbroken run writing The Uncanny X-Men for Marvel Comics from 1976 to 1991 amongst other works, will be joining a guest list featuring some of the comic industry's most talented artists and writers. He will be signing autographs, talking with fans and participating in panels all weekend long.
"So looking forward to spending time with fans in Southern California," said Chris Claremont. "Havent been in the LA area for quite some time. See you at Comic Con Revolution!"
"When we wrapped up Comic Con Revolution last May we gave ourselves a challenge. Bring an even bigger and better experience to Ontario and The Inland Empire in 2018," said Atomic Crush Events co-founder Drew Seldin. He added, "I think the addition of Chris Claremont to our already stellar guest lineup is another step on that path."
Click here
here to buy your tickets today!
November 28, 2017
We're hard at work on year 2 of
Comic Con Revolution - Ontario
and are very excited to announce the latest addition to our growing guest list!
Deadpool
&
X-Force
co-creator
Fabian Nicieza
will be making the trip to join us when the
Inland Empire
's Comic Book & Pop Culture Con returns to the
Ontario Convention Center
.
A favorite with the fans, best known for his work with superstar artist
Rob Liefeld
, Fabian has more than 1000 writer's credits on his resume and is also known for his long runs on
Marvel
's
X-Men
,
New Warriors
,
Cable & Deadpool
and
Thunderbolts
.
Fabian joins recent guest announcements that include
American Flagg!
creator
Howard Chaykin
,
Luke Cage Noir
artist
Shawn Martinbrough
,
Marvel
's
Star Wars
artist
Mike Mayhew
and
Blade
&
The New Teen Titans
co-creator
Marv Wolfman
.
Comic Con Revolution - Ontario is
NOW 2 days - May 19th & 20th
! With almost twice as much floor space and two days to fill, our goal is to make Comic Con Revolution even more fun than last year! That will mean more guests, more exhibitors, more vendors, more panels, more everything!
Click here
here to buy your tickets today!
October 17, 2017
In addition to being a great experience for Comic Book and Pop Culture fans we also pride ourselves in making
Comic Con Revolution
a family friendly event. We want fans of all things geeky to be able to pass their passion along to the next generation. Along with a full slate of programming for the hardcore fan we also offer programming and activities to keep the kids entertained.
Our goal is not only to make Comic Con Revolution a fun and affordable event for fans but also for fans with families. With that in mind we are happy to let you know that kids
12 & under
get into Comic Con Revolution
FREE
with a paid adult. (Limit 2 kids per paid adult.)
For children over 12 we also offer a discounted ticket for
kids 13 to 17
.
So load up the family truckster and and enjoy a weekend of family fun
May 19th & 20th
at the
Ontario Convention Center
!
Adult Tickets (18 & up)
Saturday: $25
Sunday: $20
Weekend: $40
Teen Tickets (Ages 13 - 17)
Saturday: $18.75
Sunday: $15
Weekend: $30
Click here
here to buy your tickets today!
COMIC CON REVOLUTION SPONSORS
---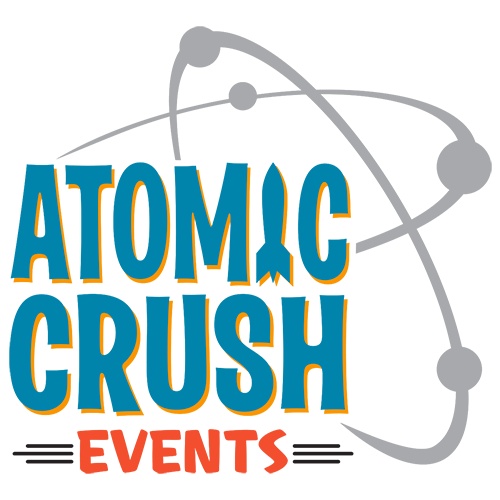 About Comic Con Revolution
Comic Con Revolution was founded on very simple principles. We are excited to celebrate comics and the creative arts. At the absolute core of what we do are the creators themselves. The people who create the comics, games, toys, film, movies and more that we all love. Without their tireless dedication to creating the fantastic worlds we all get lost in, events like Comic Con Revolution would not be possible. We strive to create the best possible experience for attendees, exhibitors and guests alike. Our team of event industry veterans are dedicated to working hard to create that experience for each of you.
About Atomic Crush Events
Atomic Crush Events is an event consultation and management company that was founded on experience and innovation. Bringing together expertise in event management, marketing, sales and business development to create a unique team that can analyze and identify the best course of action when developing a live event. Our philosophy is simple – create the best experience possible for attendees, exhibitors and guests alike.